Perennials
Transform Your Garden with Beautiful Perennials! At LittleTree Garden Market, we offer a wide selection of beautiful perennials that will add color and life to your garden year after year. With our extensive range of sun perennials and shade perennials, you're sure to find the perfect plants to create a captivating outdoor oasis.
Discover Vibrant Sun Perennials
Step into a world of vibrant colors with our impressive collection of sun perennials. These stunning varieties are perfect for sun-drenched areas of your garden. Imagine the majestic blooms of the Daylily, the striking petals of the Echinacea, and the cheerful blossoms of the Coreopsis. Delight your senses with the aromatic Lavender, admire the resilience of the Sedum, and experience the grace of the Geranium and fragrant Dianthus. These sun-loving perennials thrive under bright, direct sunlight, providing a burst of color that will last throughout the summer.
Thriving Shade Perennials
If your garden has shady spots, our shade perennials will bring life and beauty to those areas. Create a lush and serene atmosphere with our selection of shade-loving plants. Choose from the elegant Hosta, the versatile Heuchera, the delicate Ferns, and the graceful Astilbes. These shade perennials provide a cool retreat during the hot summer months, transforming your shaded areas into enchanting corners of tranquility.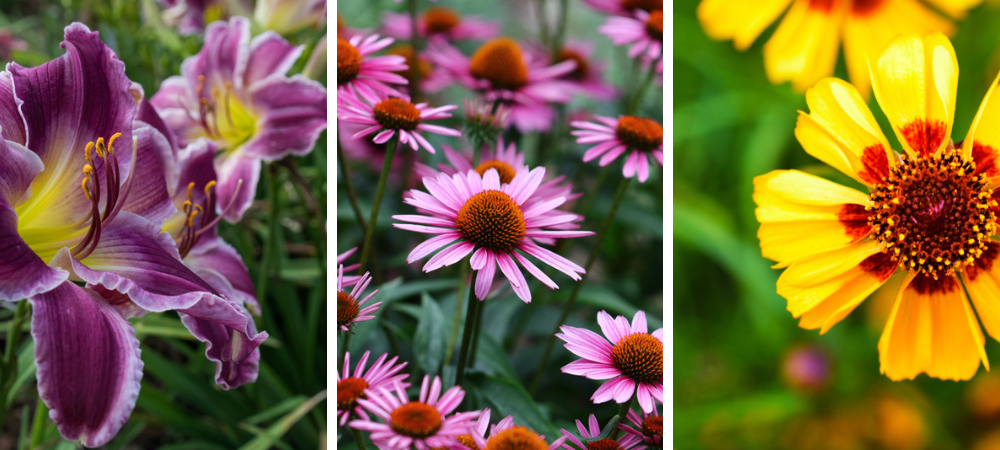 Summer-Blooming Perennials
In addition to our sun and shade perennials, we also offer a selection of summer-flowering perennials that will truly make your garden shine. Picture the vibrant hues of Coneflowers (Echinacea) or the delicate petals of Daylilies in full bloom. These summer bloomers will add a touch of magic to your garden, attracting butterflies and hummingbirds with their alluring scents and vivid colors. Watch as your garden becomes a picturesque paradise, bursting with life and vibrant beauty.
Caring for Your Perennials
At LittleTree Garden Market, we understand the importance of nurturing your perennials to ensure their longevity and vitality. To enjoy these beautiful plants for as long as possible, proper care is essential. Remember to water them regularly, ensuring the soil is moist but not waterlogged. Deadhead faded flowers to promote new blooms and maintain the overall appearance of your garden. Applying a layer of mulch around the base of the plants will help retain moisture and suppress weed growth. Don't forget to fertilize your perennials with a balanced, slow-release fertilizer to provide them with the necessary nutrients throughout the season.
Visit LittleTree Garden Market in Fergus, Ontario
We invite you to visit LittleTree Garden Market in Fergus, Ontario, where our knowledgeable staff will be delighted to guide you in selecting the perfect perennials for your garden. Whether you're looking to create a vibrant sun-soaked paradise or a tranquil shaded retreat, our stunning collection of sun and shade perennials has something for every garden. Transform your outdoor space into a blooming oasis and experience the joy of nature's beauty with LittleTree Garden Market.