Boston Fern 10" HB
Prices excluding sales tax
Stock
Larger selection in store!
Boston Fern 10" HB
Prices excluding sales tax
Stock
Larger selection in store!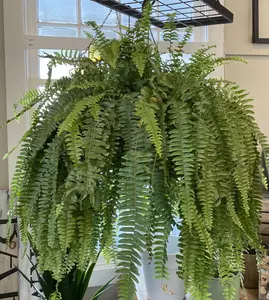 Boston Fern 10" HB
Prices excluding sales tax
Description
Boston Fern - NEPHROLEPIS exaltata 'Bostoniensis'
An Easy Care tropical fern that fills a dappled light space with lots of lush greenery.
The most popular hanging fern for that shady spot on your porch with loads of green fronds.
Quick Facts
Boston Ferns can get 1 - 2 feet tall and wide.

They have graceful arching fronds.

Look stunning in tall Lilia pots too.
Secrets of Success/Growing Details
Light: Indoors they like bright indirect sun in an east or north facing window. Outdoors their preferred situation is dappled brightness like under a porch.
Temperature & Humidity: Likes it warm. The ideal is 20℃, bring inside if the temperature is going below 10℃. They love an almost daily misting of water when the humidity is low.
Watering: Keep soil moist but not sopping wet, if it dries out too much the tips of the leaves will turn brown.
Plant Nutrition: Feed regularly with a liquid kelp fertilizer like Garden Pro's all purpose 10-10-10. This means every 2 weeks in the spring and summer and then reducing it to once a month in the winter.
Repotting: Repot in the spring if the roots fill the pot. Keep the crown above the level of the soil.
Special Problems: Brown tips, yellowing fronds and no new growth usually means the air is too dry. Solve this problem by using a small hand sprayer to mist the fronds daily or every second day.
Product Details
EAN code

15331

Latin name

NEPHROLEPIS exaltata 'Bostoniensis'

Room Light

Indirect

Plant Size

Perfect for the Patio or Porch, Hanging/Plant Stand

Plant Care

Easy Care

Foliage Colour

Green

Outdoor Lighting Requirements

Shade - less than 4 hrs a day

Pet Friendly

Friendly for most pets

Hardy for Winter

Bring it in before temperatures go below 0℃
Delivery
Delivery Options
---
Local delivery Fergus, Elora, Salem is free with purchase over $100
Fergus, Elora and Salem $20
Delivery to Belwood, Alma, Arthur, Guelph and Drayton is free with purchase over $150
Belwood, Alma $30
Arthur $40
Guelph, Drayton $60
Every attempt is made to deliver within 5 business days unless otherwise negotiated. (Sometimes the weather is a little snowy so it takes us a wee bit longer.)
Free delivery is on Fridays and you must be home if you bought plants and it is below 10C.