Coreopsis Perennial Assorted
Prices excluding sales tax
Short description
A beautiful sun-loving and low maintenance perennial
Stock
In store stock only. Please Visit the Garden Centre to Purchase
­Lots More Plants in Stock at the Garden Centre
Coreopsis Perennial Assorted
Prices excluding sales tax
Short description
A beautiful sun-loving and low maintenance perennial
Stock
In store stock only. Please Visit the Garden Centre to Purchase
­Lots More Plants in Stock at the Garden Centre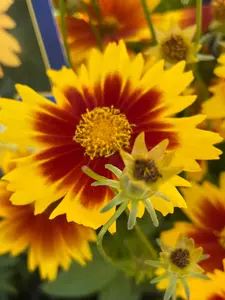 Coreopsis Perennial Assorted
Prices excluding sales tax
Description
The Coreopsis variants such as Gold & Bronze Tickseed and Red Satin Tickseed bring daisy-like flowers, are long blooming and low-maintenance. They grow in relatively poor soil, that even allows them to bloom in bright colours.
Product Details
EAN code

21658

Pot size

Assorted
Delivery
Delivery Options
---
Local delivery Fergus, Elora, Salem is free with purchase over $100
Fergus, Elora and Salem $20
Delivery to Belwood, Alma, Arthur, Guelph and Drayton is free with purchase over $150
Belwood, Alma $30
Arthur $40
Guelph, Drayton $60
Every attempt is made to deliver within 5 business days unless otherwise negotiated. (Sometimes the weather is a little snowy so it takes us a wee bit longer.)
Free delivery is on Fridays and you must be home if you bought plants and it is below 10C.