Hanging Basket Humming Bird Mix
Prices excluding sales tax
Stock
This product is only available in the Spring
­Attracts Hummingbirds and Butterflies
Hanging Basket Humming Bird Mix
Prices excluding sales tax
Stock
This product is only available in the Spring
­Attracts Hummingbirds and Butterflies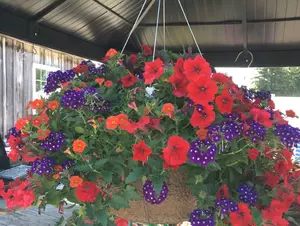 Hanging Basket Humming Bird Mix
Prices excluding sales tax
Description
A stunning mix of flowers that attract hummingbirds. Feed the birds naturally all summer long with this basket of colour.

Flower Mix includes:

Petunias

,

Calibrachoas,

Verbenas

,

Fuchsia

and

Thunbergia
Plant Care
How much sun:
Where to place:
Temperature & Humidity:
Watering:
Plant Nutrition:
Product Details
EAN code

8454

Pot size

16

Outdoor Lighting Requirements

Full Sun - 6 or more hours a day, Part Sun- 4-6 hrs of sun a day, Shade - less than 4 hrs a day
Delivery
Delivery Options
---
Local delivery Fergus, Elora, Salem is free with purchase over $100
Fergus, Elora and Salem $20
Delivery to Belwood, Alma, Arthur, Guelph and Drayton is free with purchase over $150
Belwood, Alma $30
Arthur $40
Guelph, Drayton $60
Every attempt is made to deliver within 5 business days unless otherwise negotiated. (Sometimes the weather is a little snowy so it takes us a wee bit longer.)
Free delivery is on Fridays and you must be home if you bought plants and it is below 10C.