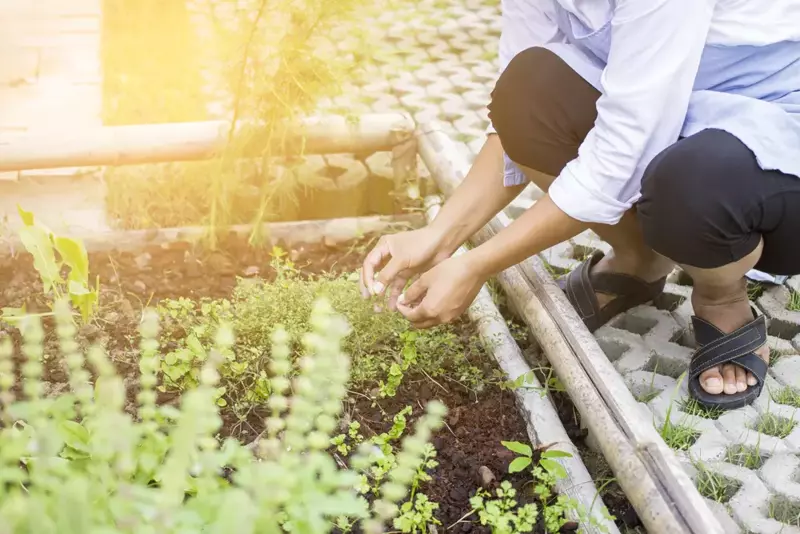 Fragrant plants are the cherry on top of any garden. They fill your garden with their pleasing scents, and they also have a range of other benefits. Not only do fragrant plants look great, but they can help make your garden more attractive to bees and other pollinators, which in turn means that they'll also be able to help you grow even more other plants. So if you want to add something extra to your garden this year, read on for our list of the top 5 fragrant plants you should grow in your garden!
The benefits of fragrant plants in the garden
First of all, fragrant plants are extremely attractive to pollinators and help repel pests like aphids and whiteflies. If you have an aromatic plant in your garden, you'll be able to enjoy its scent without having to worry about any pests being attracted to it. Fragrant plants are also great for supporting the local ecosystem and can help bring a bit of colour to an area that might otherwise be a little bland.
Lavender
Lavender is one of the most popular and well-known fragrant plants, for obvious reasons. It has a gorgeous scent that is delicate and sweet, that's been used for many purposes. When you water your lavender in the morning, it tends to be most aromatic. Lavender is an excellent plant for attracting pollinators, and it's also great for fending off pests. You can dry out the flowers and leaves of your lavender and then use them to make a natural insecticide that is great for repelling aphids and whiteflies. Lavender comes in several colours, including blue, purple, and white. It's a versatile plant and easy to grow, so it's definitely a great choice for beginners.
Honeysuckle
Honeysuckle is one of the best fragrant plants you can grow in your garden. It has a sweet and delicious scent that will fill your garden with its delightful aroma. The best thing about honeysuckle is that it comes in various scents, including fruity and floral scents that will make your garden smell wonderful. Honeysuckle is also great for bees and other pollinators. If you've never grown honeysuckle before, you might notice that the flowers come in various colours. Pink and yellow honeysuckle flowers are the most common, but orange and white varieties are also beautiful.
Nemesia
Nemesia is a stunning and colourful flowering plant with a beautiful and sweet scent. It's easy to grow and excellent for beginners since it's one of the few fragrant plants that are actually pretty easy to care for. Nemesia is a very versatile plant, and it comes in a wide variety of different colours, including white, yellow, red, yellow, and orange, so there's something for everyone. It's also great for growing in pots, so it's a perfect choice in case you don't have a lot of space in your garden. Nemesia makes a stunning addition to any garden, and it also helps to attract pollinators, so it's a great option if you want to help support the local ecosystem.
Jasmine
Jasmine is another fragrant tropical plant that makes a great addition to any garden. It's well known for its exquisite scent and beautiful flowers, which come in various colours. Jasmine is one of the most expensive fragrant plants on the market, but it's definitely worth the price. Jasmine is a creeper that can grow up to 10 feet tall, so it's best to plant it in a pot or in the ground if you don't have a lot of space in your garden. It's also recommended that you don't grow jasmine near windows or doors since it's known for being incredibly invasive. Jasmine is an excellent choice for beginners, and it's easy to care for, so it's a good option if you've never grown a fragrant plant before.
Lilac
Lilac is another beautiful and fragrant flowering plant that is great for beginners. While it might not sound as exciting as some other plants, it's one of the best aromatic plants to grow in your garden and it's even one of the cheapest! Lilac is a shrub that grows best in areas with a mild climate. It comes in various beautiful colours, including blue, purple, pink, red, and white. It also has a long flowering period: it blooms in late spring and early summer. This plant's great for people who want a plant that will keep providing them with flowers for an extended time. Lilac is a slow-growing, compact, rounded shrub with oval leaves and dense clusters of fragrant lavender-pink flowers. It's a versatile plant, so you can use it to spruce up your garden in several ways. You can use it to create a beautiful hedge, or you can use it to add a splash of colour to your patio.
Find fragrant plants at our garden centre
Fragrant plants are an excellent choice for any gardener, whether you're a newbie or a seasoned expert. They're super easy to care for, and come in a wide range of beautiful and delicious scents, so you're sure to find something you love. And best of all, they make great gifts too! Find out more about fragrant plants at LittleTree Garden Market!